Universal Ballet : Company News
[Preview] Herald Economic : Coming in July 'Romeo and Juliet'

2012-06-21
2521


Published in Herald Economic : To view original Click here!



▷ This article was written in Korean.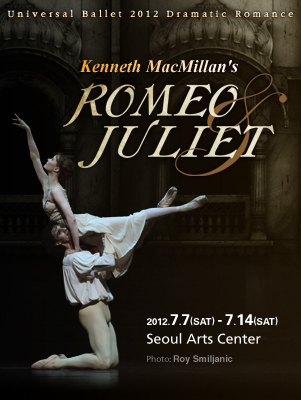 Coming in July, Kenneth MacMillan's 'Romeo and Juliet'
Universal Ballet will performing the Kenneth MacMillan's 'Romeo and Juliet' at the Opera House in Seoul Arts Center from August 7 to 14. Universal Ballet's performances of the MacMillan 'Romeo and Juliet' are the first performances of the work in Korea in thirty years.

For their upcoming performance, Universal Ballet will bring in all of the stage sets, props and costumes from the Birmingham Royal Ballet. In addition, ten artistic production staff who know all the ins and outs of the production, down to the last gesture, prop placement and lighting cue will spend time in Korea with Universal Ballet's production staff, in order to create an accurate recreation of MacMillan's choregraphy, Andrew's designs and John Read's lighting.

Robert Tewsley will appear as Romeo with Universal Ballet's principal dancer Ji-Eun Ahn. Tewsley was a principal dancer with the Royal Ballet, Stuttgart Ballet and the National Ballet of Canada and has been dancing as a freelance dancer with ballet companies all over the world since 2004.

Hye-Min Hwang and Jae-Yong Ohm, Na-Eun Kim and Konstantin Novoselov, Hye-Min Hwang and Seung-Hyun Lee are appearing in the lead roles of 'Juliet and Romeo'. Principal dancers, Hye-Min Hwang and Jae-Yong Ohm who are to be married on August 21. Universal Ballet announced the upcoming nuptials of longtime the two have danced together many works as 'Swan Lake', 'The Nutcracker', 'Giselle', 'Shim Chung', 'In the middle, somewhat elevated' and many others.