Universal Ballet : Company News
[Review-Swan Magazine] 2011 Onegin at LG Arts Center

2012-11-06
4388
Scroll down to see the English translation below.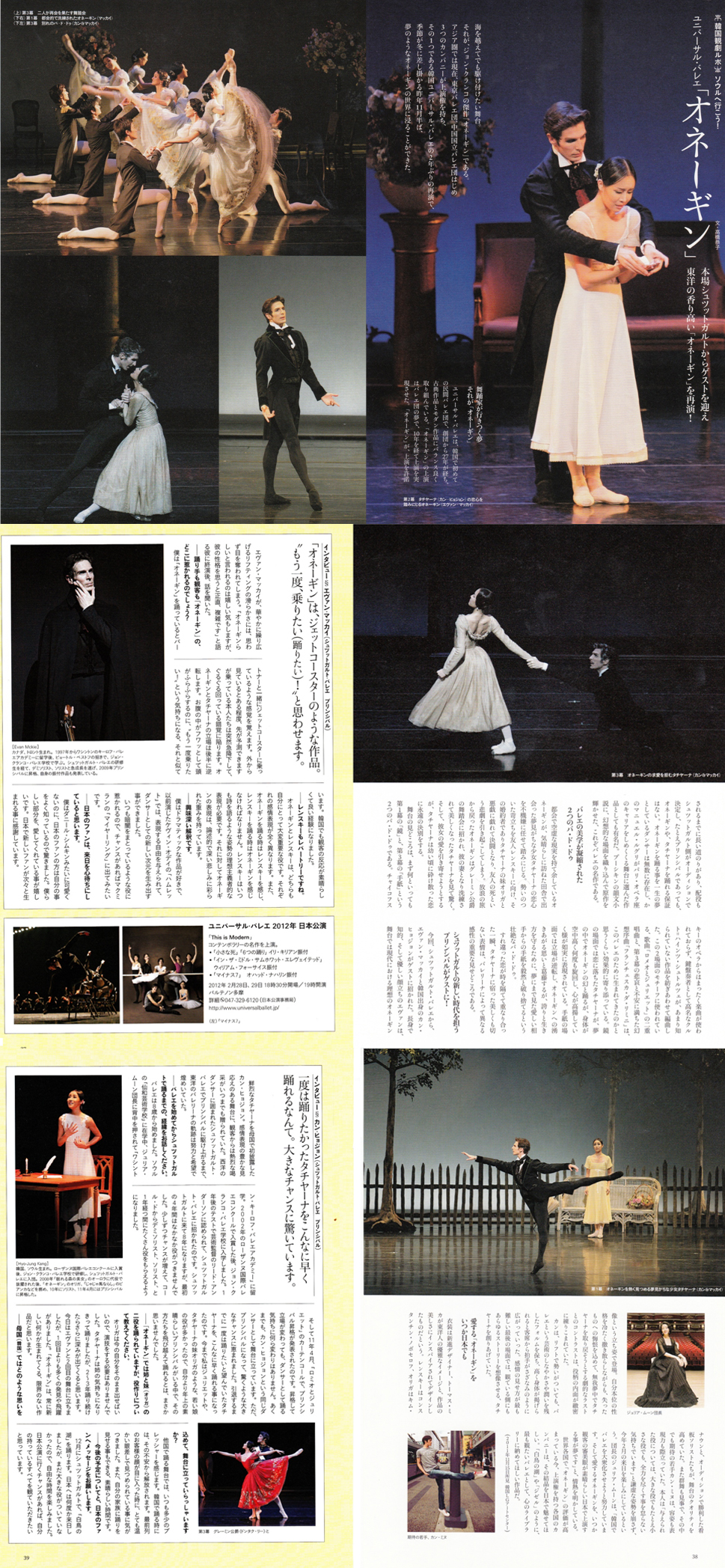 [Translation] Review was published in the quarterly Japanese dance magazine SWAN (2011 winter)
Universal Ballet, along with some guest dancers from Stuttgart Ballet, presented Onegin with an oriental spirit.
John Cranko's Onegin is one of those must-see performances that is worth crossing the sea to get a look at. As one of the three companies in Asia who have acquired the rights to perform it, after an interval of two years, last November, just when the season was getting close to winter in Japan, Universal Ballet bewitched us with the dreamlike world of Onegin.
"Onegin" – a production all dancers dream of performing someday
Universal Ballet is the longest-standing private ballet company in Korea with a history of 27 years, and a well-balanced, broad range of repertoire from classic to modern. The company's long-time dream of performing Onegin was finally realized when they succeeded in obtaining the rights to perform it after 10 years of efforts. The principal casting was decided by the guest staff from Stuttgart Ballet. There is no guarantee, even to principal dancers, to obtain the role of Onegin and Tatiana. The famous story of Manuel Legris, choosing Onegin for his last performance with Paris Opera Ballet, symbolizes the keen desires of dancers wishing to dance Onegin at least once during their dance career. Visionary scenes were added to Alexander Pushkin's verse novel to brighten up the original story. This is an absolute masterpiece of classical ballet.
Two pas de deux condensing ballet aesthetic
Onegin, bored with city life, trampled on the feelings of a naive romantic girl named Tatiana, in a sulky manner, while visiting the town where she lived. His attitude led to a tragedy after a conflict with Olga, and he ended up killing his friend Lenski out of his aggravated frustration.
Later, returning after a long exile, Onegin, invited to Prince Gremin's ball, was surprised to find that Tatiana, now Prince Gremin's wife, had become so sophisticated and beautiful. Onegin tries in vain to attract her attention. Tatiana, who had been in the depths of despair due to her unrequited love for him in the past, gains the strength from her traumatic experience to make a clean break with Onegin.
Among the ballet's highlights are the Mirror and Letter Pas de deux of Tatiana and Onegin. Without using a single piece of music from Tchaikovsky's Evgeny Onegin opera score, renowned pianist Kurt-Heinze Stolze has collected little-known Tchaikovsky pieces and arranged them into a ballet score. His score engenders a perfect harmony between the music of Romeo and Juliette used as a motif in act 2, and fantastic music, full of poignant grief and anxiety, from Francesca da Rimini in act 3, as if they were made for each other. In the Mirror pas de deux the enamored Tatiana dances with the illusion of Onegin in her dream, giving a clear portrayal of her soaring heart, reflected in the numerous overhead lifts in the choreography. In the Act 3 Letter pas de deux the ground shifts, and Tatiana comes into conflict with her love towards Onegin. In order to protect her pride and way of life, Tatiana steels her mind and resolutely tears the letter from her beloved Onegin into pieces.
At the moment when their feelings reach each other, after a long time of separation, Tatiana demonstrates sad affection. This is the scene when ballerinas must show their vulnerability.
Guest principal dancers bearing the future of Stuttgart Ballet!
Stuttgart Ballet principal dancers Evan McKie and Hyo-Jung Kang (Korean) joined the cast as guest dancers. McKie's tall, handsome appearance and dancing style are perfectly suited to the modern image of Onegin.
Onegin's character is elaborate with the contrast between his heartless rejection of Tatiana at the beginning and his remorse and earnest attempt to win her heart in the final scene.
Even while performing vigorous overhead lifts, McKie maintains a graceful and charming appearance, on occasion even raising ripples of excitement through the audience. Tatiana's complex emotional conflict in the final scene leaves the audience to draw their own diverse interpretations.
Our beloved Onegin someday in Japan
The costume designs by Thomas Mika displayed striking originality, inspired by the beauty of the piece coupled with Asian refinement. Lead supporting dancers raised the quality of the performance: Konstantin Novoselov as Lenski and Naeun Kim as Olga, joined by Minwoo Kang, who stood out in both appearance and technique.
"In any role, whether it be a lead role or a supporting role, I make my best effort to give the role everything I have," says Minwoo, adding that he is looking forward to the company's visit to Japan in January.
"We are constantly working to bring ballet to the attention of the general public here in Korea," says Universal Ballet General Director Julia Moon. "It is a dream of mine that one day we can present our beloved Onegin before the Japanese public, with their well-developed aesthetic sensibility."
Building on the success of Onegin here, we hope those who hold the rights to perform this exceptional work will bring it to Japan, to the riveting attention of Japan's ballet public. Onegin is one of the works that balletomanes hold most dear, along with Swan Lake and Giselle.