Universal Ballet : Company News
[Preview-Swan Magazine] Swan Lake in Japan

2012-10-24
2478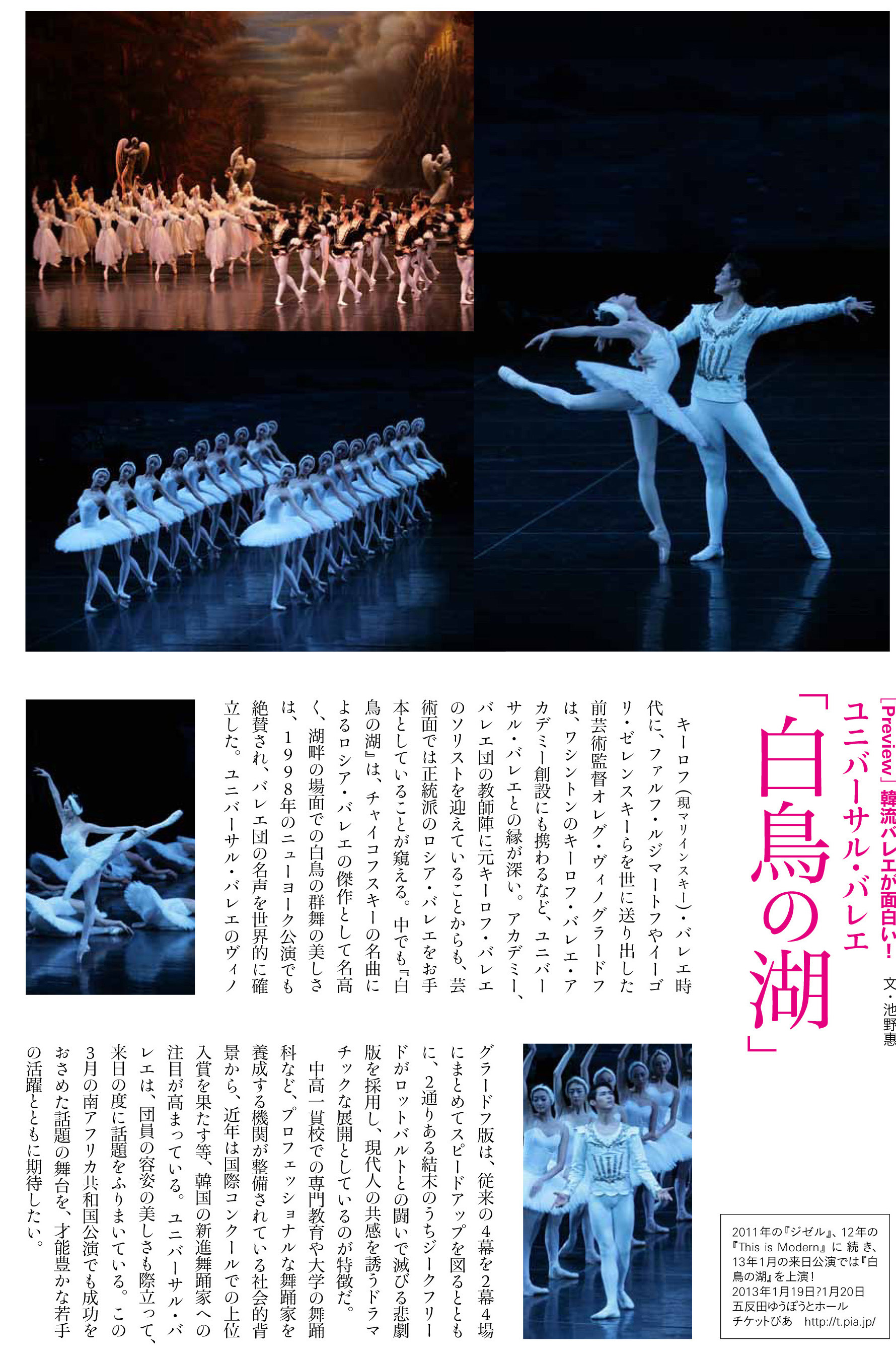 [Translation] Swan Magazine (Oct. 2012)
Best known as the former artistic director of the The Kirov Ballet (now Mariinsky Theatre) who discovered such talented dancers as Farouk Ruzimatov and Igor Zelensky, and also being integrally involved in the foundation of The Kirov Academy of Ballet of Washington, D.C, Oleg Vinogradov has a close and longstanding relationship with Universal Ballet. The fact that both the academy and the company invite former soloists from The Kirov Ballet, suggests that, in artistic perspective, they follow the Russian ballet tradition. In particular, the masterpiece, Swan Lake, is Tchaikovsky at his best. Universal Ballet received highest praise for the performance [in New York] in 1998, which established their world-class reputation.
Oleg Vinogradov's version of Swan Lake is shortened to two acts, four scenes instead of four acts, in order to speed up the flow of the performance. Among the two endings, Vinogradov adopted the one in which Siegfried perishes in the battle with Rothbart and this dramatic turn strikes a chord with modern-day audiences.
The enhanced education system in Korea, with its six-year secondary school system and university dance departments, has dedicated institutions training professional dancers enabling numbers of dancers to be placed at top of the podium in international competitions. Korean ballet now is drawing a great deal of global attention. Their dancers' remarkable physical beauty also attracts attention.
Following their huge success in South America this March, we hope for their continued success and have high expectations of the company's brilliant young dancers.